Toughest. Lightest. Stunning

Cyber Week
Save 35%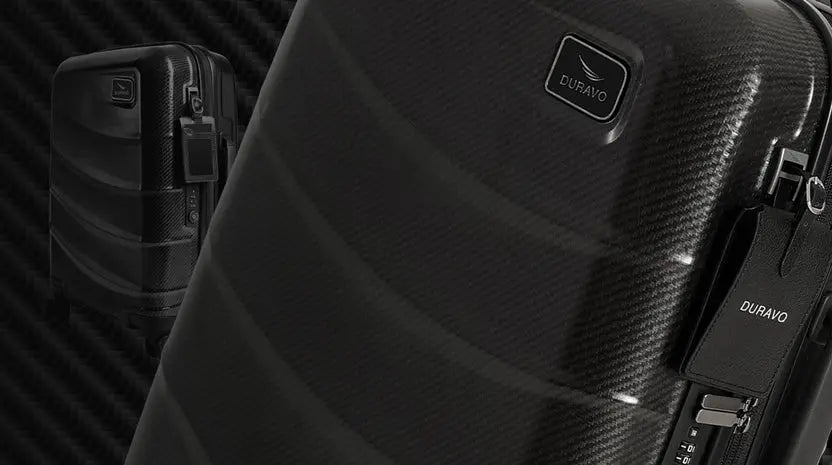 Flexshell

TM

5X Stronger than Plastic

Extraordinarily tough yet lightweight, Flexshell enables Duravo to create stunning designs and the lightest suitcase in its class.
Trusted by military and sports professionals, Flexshell's advanced tech provides the travel industry's best protection for your belongings.
Easy, Flexible Charging
Built-in USB port and storage sleeve stores your powerbank inside your luggage and charges it outside
Effortless Gliding
Premium Hinomoto ball-bearing, quiet-glide 360 degree wheels move effortlessly
TSA-Approved Lock
Strong protection and TSA compliant means no security slowdowns
Aircraft-Grade Handle
Tough, durable, yet comfortable handle offers 3 levels and recessed storage
Meet the New Venture Backpacks
Thoughtfully designed and featuring tough Flexshell surfaces, the Venture backpacks pair well with the Duravo suitcase and protects your gear on solo flights.
Subscribe for exclusive offers and new product news.
Battle tested tough. Duravo products are made of advanced composite polymer technology adapted from ballistics material made in Germany.
Be one of the first to own the International Carry On suitcase and you'll receive a complimentary Venture Backpack on us!
Add the Slim Backpack to your cart after selecting Carry On and see the offer!
Trusted by Bold Travelers
Really enjoy the suitcase!
"Really enjoy the suitcase! Super lightweight.."
This backpack is solid construction...fabric is tough and high-end. The backpanel makes it very strong/sturdy, but does not make it heavy or bulky. It has all the organization pockets/panels I need... I am able to get my 15" laptop in the inside holder with no problems and still pack clothes and all my work gear.

I'm liking this carry-on!. It is very light and the shell material is unique looking compared to all the other hardshell luggage I've seen (or owned). I was a little worried that it wasn't big enough for me as a carry-on, but the expandable zipper really helps if I'm traveling for extended time..... I would recommend.

This full backpack works really well for me. It feels and looks really nice and I am able to organize all my work gear plus clothes for travel. I can do 3 days with just this backpack...room for my laptop & electronics as well as clothes and a pair of tennis shoes. I've gotten a compliment on the look too....